Clocks
---
Product ID: 11-99-02923-8
Elegant desk clock with Tower Logo, 6" by 4 1/2", with wood base

Our

Price:

$18.25

[Add to Wishlist]
---
Product ID: 2320010022549
This classy clock is a wonderful addition to your home or office! A dark brown body with hints of cherry and stands approximately 11 inches high. Adorned with a gold VLS seal.


More...
Our

Price:

$31.70

[Add to Wishlist]
---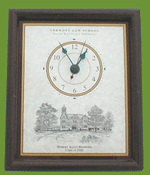 Product ID: 11-99-00912-1
A pen and ink illustration of Debevoise Hall at Vermont Law School is featured in a hand-finished wood frame. Personalization is available at an extra cost. 7' x 8' x 2'


More...
Our

Price:

$150.00

[Add to Wishlist]